CNA-Q's Top Students Honoured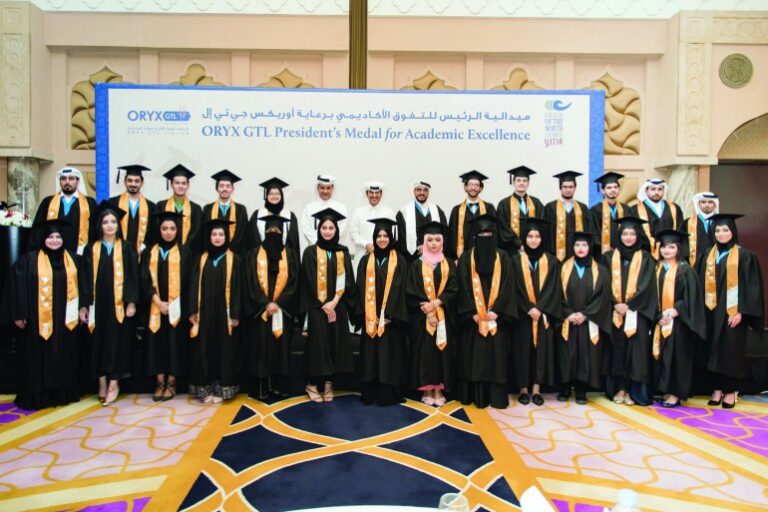 The best and brightest graduating students from College of the North Atlantic – Qatar (CNA-Q) were honoured at the ORYX GTL President's Medal for Academic Excellence gala held at the Sharq Hotel on Thursday.
Medals were presented to 27 students who received the highest marks in their individual programs of all graduating students. Of those honoured, 19 achieved a perfect 4.0 grade point average. CNA-Q President Dr Khalifa bin Nasser Al Khalifa said, "These students can be proud of their achievements. They have worked hard, and are now ready to move forward in the next stage of their lives with confidence, whether it be further education or into the workforce.
The education that our students received during their time at CNA-Q has been rooted in applied, experiential learning. No doubt the highly-qualified and technically-competent young men and women you see before you today are the future leaders of Qatar."
In addition to the Presidents' Medals, ORXY GTL presented four Distinguished Graduate Awards to one student from each of the College's academic schools – Business Studies, Engineering Technology, Health Sciences and Information Technology. The students were nominated by their Dean for achieving exemplary academic standing and commitment to campus life, extracurricular activities and volunteerism.
The President's Medal for Academic Excellence has been awarded since the College's inception, however it became a gala event five years ago when ORYX GTL became the official sponsor.
As the guest speaker for the event addressing the students, Mohamed Al Enazi, Chief Administration Officer at ORYX GTL, said, "It is your responsibility to contribute to society by reinvesting the extraordinary skills and talents which we are here to celebrate today.
Not only will this make a positive contribution to your workplace, but it will strengthen the unity and success of the wider community.
ORYX GTL is honoured to be associated with this initiative, and we hope to leave a real and lasting academic and intellectual legacy for future generations – in keeping with the vision and goals of our country's wise leaders."
The President's Medal recipients will join their fellow students on June 20, for the 15th CNA-Q Graduation Ceremony at QNCC.
The graduation, under the patronage of HE Sheikh Abdullah bin Nasser Bin Khalifa Al Thani, Prime Minister and Minister of Interior, will be the largest in the College's history with 559 graduates.
CNA-Q is Qatar's premier technical college, offering nearly 30 diploma programs in Business Studies, Engineering Technology, Health Sciences and Information Technology.