ORYX GTL Launches 6th Awards Campaign For The Advancement Of Post Graduate Education In Qatar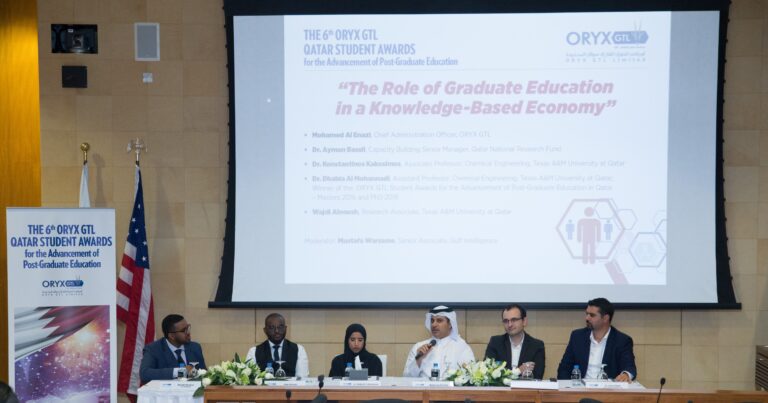 Doha, January 31st 2019: ORYX GTL kicked off the sixth year of its student awards campaign for the Advancement of Post Graduate Education in Qatar with a seminar held at Texas A&M University at Qatar. The ORYX GTL Student Seminars aim to enhance dialogue between students, academic institutions and industry to help better define what programs and subsequent career opportunities are most beneficial for post-graduate students in Qatar and beyond.
In tandem with its series of Student Seminars, ORYX GTL annually hosts an Awards ceremony for the Advancement of Post Graduate Education. The pioneering student awards acknowledge two Masters and two PhD students and winners go on to become ambassadors for post graduate education and participate in the program of seminars throughout the academic year at universities in Qatar.
"The ORYX GTL Student Awards were created with the vision to accelerate the development of Qatar's knowledge economy and champion dialogue between industry and academia," said Mohamed Al Enazi, CAO at ORYX GTL. "The Awards continue to be a cornerstone of Qatar's efforts to reach its 2030 National Vision through recognition of the superior achievements of its most capable minds," Al Enazi continued.
The Awards campaign marks a key step in efforts by stakeholders in industry & academia to inspire an ethos of innovation and research and development (R&D) in Qatar as the country plays an essential role in the global push for more science, technology, engineering and math (STEM) students and skills to tackle the growing technical challenges in the energy sector.
Tackling the grand challenges of energy security, water security, cyber security and health has been part and parcel of Qatar's National Vision for the past decade. Continued partnership between industry, academia and government will be essential going forward as the country prepares to sustain and further advance the production of its resources and technical know-how.