ORYX GTL Signs A Five-Year Agreement With AZF To Sponsor Freestyle Aquatics For People With Disabilities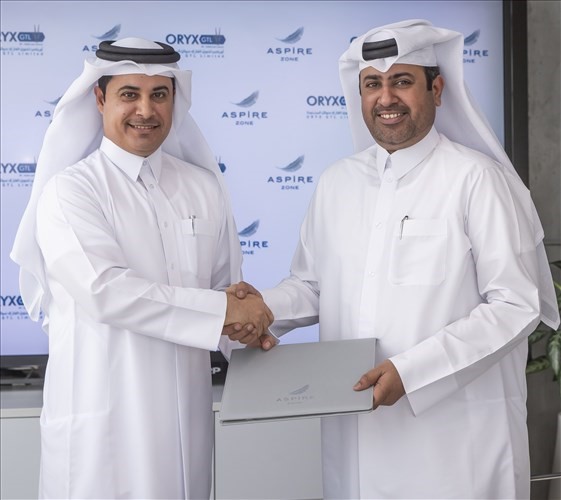 On Sunday, ORYX GTL signed a five-year partnership agreement with Aspire Zone Foundation (AZF) to sponsor Aspire's pilot CSR initiative for people with disabilities, Freestyle Aquatics.
The agreement was signed at AZF's Headquarters by Mr. Abdulla Nasser Al-Naemi, Director General, Aspire Logistics and Mohamed Al Enazi, Chief Administration Officer, ORYX GTL, in the presence of officials from ORYX GTL including Ibrahim Al Kuwari, CSR Coordinator.
The support that ORYX GTLprovides to this unique CSR programme will benefit more than 27 participants with special needs, aged 5 and above who will be given customised swimming, snorkelling and scuba diving experiences and individualised training sessions.
Commenting on the new partnership, Mr. Abdulla Nasser Al-Naemi, Director General, Aspire Logistics, said: "We are thrilled to partner with Oryx GTL. This news will further enhance our efforts to attract greater numbers of participants to this unique initiative. The business' involvement reflects how national organisations are keen to integrate people with special needs into society, and to break down perceptions that sports are to be enjoyed exclusively by a particular group of people."
Al-Naemi added: "The programme has delivered more than 850 hours of aquatic training since it was launched in 2016, and we're enormously grateful for the tremendous efforts of our volunteer coaches who have generously contributed their time. We are committed to expanding the programme and including greater numbers of participants."
Meanwhile, Mohamed Al Enazi, Chief Administration Officer, ORYX GTLsaid: "Through our corporate social responsibility programme, we aim to contribute to different sectors of the economy including sports, education and health. It is a great honour to join forces with AZF to support this unique initiative by sponsoring it for five years."
Freestyle Aquatics at Aspire is part of AZF's Corporate Social Responsibility programme and builds on its existing efforts to provide people with disabilities with a wide range of opportunities to participate in sporting activity throughout the year. Creating such opportunities encourages people to maintain active and adopt healthy lifestyles, helping them feel included in the various local community activities underway in Qatar.
The initiative started in November 2016 when AZF opened its indoor pool in Aspire Dome, the largest multi-purpose facility of its kind in the world. It was co-founded by Kathleen Bates and Jojo Musa, two volunteer coaches from Freestyle Aquatics. HavingAspire as such a central pillar of the programme has encouraged increasing numbers of families to register since launch.