ORYX GTL Supports Qatari Autism Society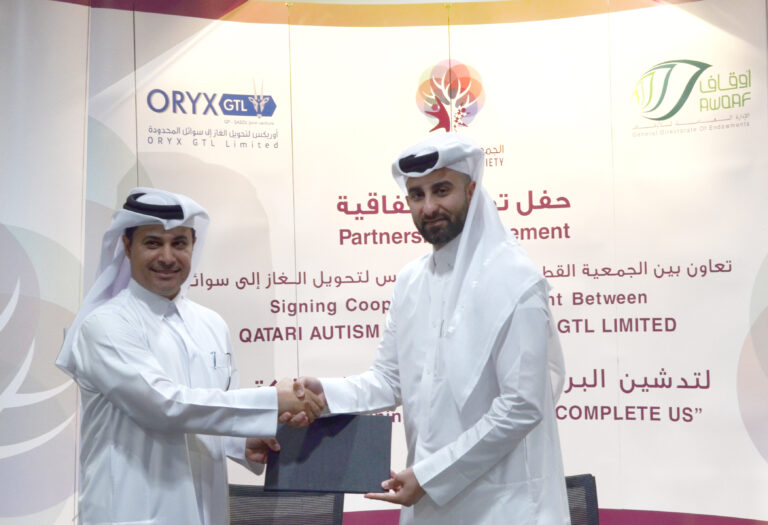 Qatari Autism Society (QAS) in co-operation with ORYX (GTL) has signed an agreement to achieve QAS vision which aims to integrate people with Autism Spectrum Disorder (ASD) into the community since they are an integral part of it. This agreement contributes to support "You Complete Us" program hosted by QAS.
Qatari Autism Society hosted "You Complete Us" training and educational program for children with Autism aging (3-14 years). The program aims to qualify, rehabilitate and train the children with (ASD) so that they can rely on themselves to meet their daily needs and develop their abilities as well as provide support and guidance to their families.
ORYX (GTL) is providing the needed support toward the success and sustainability of "You Complete Us" program.
The program consists of individual sessions in Arabic and English covering:
Speech-language Therapy
Occupational Therapy
Special Education (Behavior Modification)
Family Advisory Services
Mr. Mohamed Faisal – Executive Director of Qatari Autism Society – has expressed his pleasure in signing this agreement of partnership that will contribute in raising awareness among the community about Autism Spectrum Disorder. ORYX (GTL) provides support to Qatari Autism Society in line with its commitment to Corporate Social Responsibility (CSR).
Mr. Mohamed Al- Enazi – Chief Administration Officer at ORYX GTL – has expressed his pleasure at this partnership that will contribute to raising awareness among the community about Autism Disorder to deal with this category.
Furthermore, Mr. Al-Enazi also praised all the employees of the Qatar Autism Society for their tremendous efforts exerted to overcome the difficulties faced by individuals with autism, and their relentless endeavors to integrate them with their peers in the community to overcome this disorder.
Qatari Autism Society hopes to get technical and financial support by singing such agreement with governmental institutions and civil society organizations to approach Qatar vision 2030 as well as the Qatari Autism Society vision, and to let the society contribute in completing (One piece of Autism puzzle).